If anyone has any factual info, or even a sighting about this car, please email me. The input I have all seems consistent in that these were 92 or 93 SLs that were converted.

Andre C bought this beautiful 92 SL automatic convertible.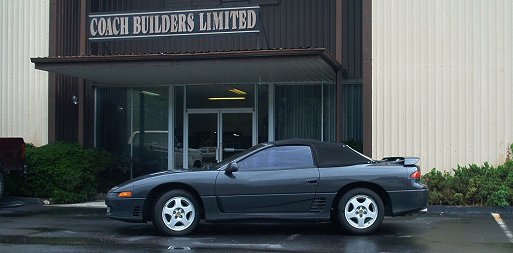 "I bought the car from the original owner in West Palm Beach, in May 2002.
It's pretty well a bone stock 1992 3000GT SL, dark gray metallic with dark
gray leather, automatic, 83k miles. The convertible top is full power, and
works fine.

The car was converted by Coach Builders Ltd, Inc from High Springs, Florida
(just North of Gainesville). After a brief factory visit it transpires that
they made a total of 2 3000GTs, and 6 Stealths. These were usually (but not
always I think) sold through a dealer, but both 3000GTs were sold through
Delray Mitsubishi in SE Florida. The cost of the conversion was $15k. Coach
Builders now concentrates mainly on Cadillacs - www.coachbuildersltd.com.
It's unclear as to how many 3000GT Convertibles were made by Straman or
anyone else at this point, so this car may be one of only a few in
existence. I am researching the 2nd Coach Builders 3000GT.


The modifications include:

	- stripping the interior and welding in supports where necessary, including
a rear strut brace
	- repainting the interior
	- relocating the rear speakers to a panel attached to the rear strut bar,
and add new upper quarter panels to allow the power top mechanism to operate
	- adding the control switch to the dash to the right of the steering wheel
	- new rear-view mirror with lights
	- turn the rear hatch into a decklid/trunk
	- adding a top boot cover
	- add a cloth covered fiberglass panel across the top of the windshield to
mount the sun visors

Takes about 1 minute to drop the top, half of which is to undo the Velcro
inside and out. Top is black canvas, with a heavy cloth liner. According to
Coach Builders, the hydraulics are strong enough to lift the vehicle off the
ground. It's secured at the top of the windshield with a catch in each
corner.

It seems like it was a popular conversion to perform at Coach Builders, but
the opinion was that by the time you paid for the car and the conversion,
you were closing in on Mercedes SL territory....... They also mentioned it
was easier than some conversions as the doors are frameless.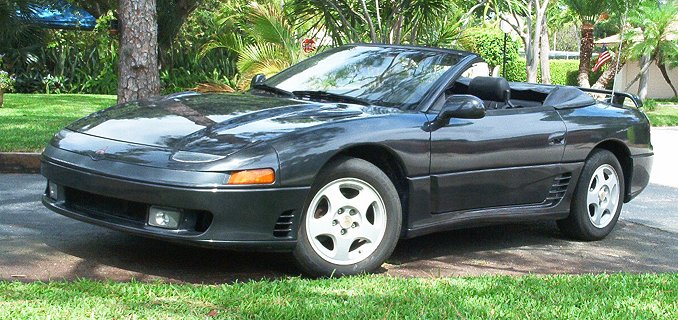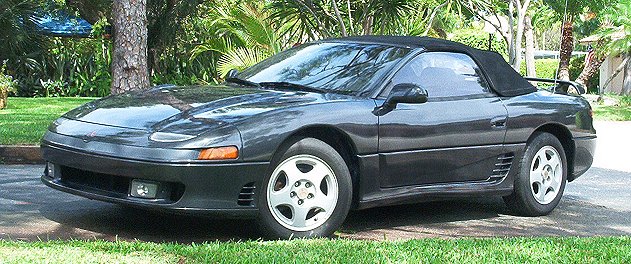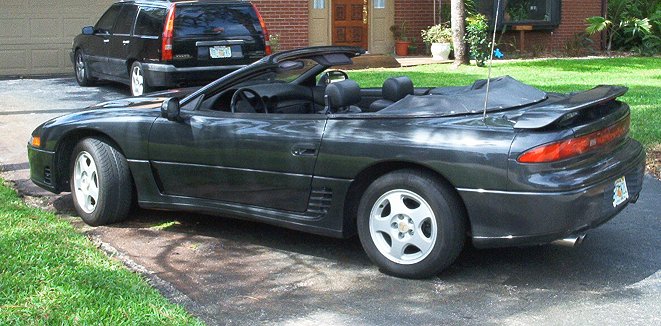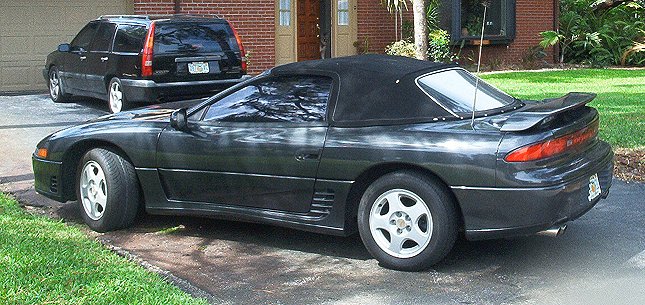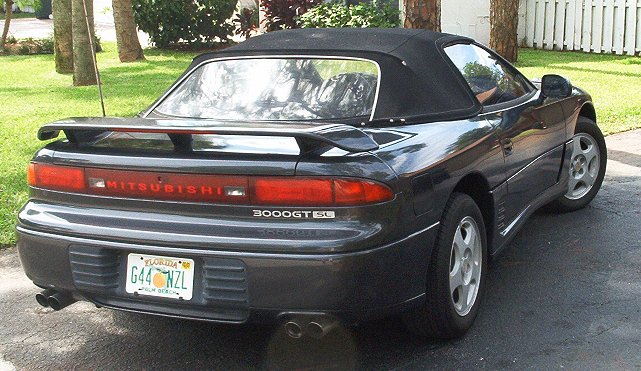 Thanks to George P for this info:
There was a company who made several of these. It was a conversion they made on standard 1992-1993 3000gt's which included transforming it from a hatch back to a small trunk. The cost of the conversion was 18k which put the car at about 45k retail, however the last couple went for 35k and were sold in 1995 but were new 1992's. It is 5 speed and it is not a vr4.
Fred H. from Hawaii sent me an email with this 3000GT convertible info:
The yellow 3000GT on your website looks like a 1992 or
93. In 1996, in a Mitsubishi dealership in Hawaii I saw a 1995 red 3000GT soft top convertible. It definitely did not have pop up headlights nor the hood bulge of 1993 and earlier 3000GTs. It was a Mitsubishi not a Dodge.
They were asking about $60,000 for it as a leftover new car. So there is another red convertible around somewhere.
The Dealership is now closed and I have not seen the car in the Honolulu area since then.